Our school's exhibition of fossils
Our school's exhibition of fossils
On September 1st, in our school, an exhibition of fossils was presented.
It was partly an effect of students exploring in Nasiłów near Kazimierz Dolny who participate in the Erasmus + project EKO-SYSTEM OF OPEN SCIENCE SCHOOLING.
Students investigated the layers on the slope of the ice-marginal valley 65 million years old.
While splitting the rocks, the students discovered a lot of interesting things fossilized remains of sponges, clams, snails, belemnites, and even starfish, spines sea urchins, and ammonites.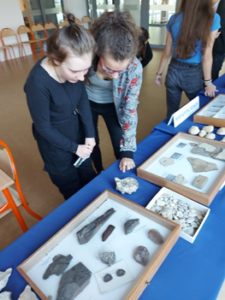 The exhibition was created as a project initiative and it presented the collection of fossils thanks to cooperation with the Faculty of Biology and Environmental Sciences UKSW in Warsaw.